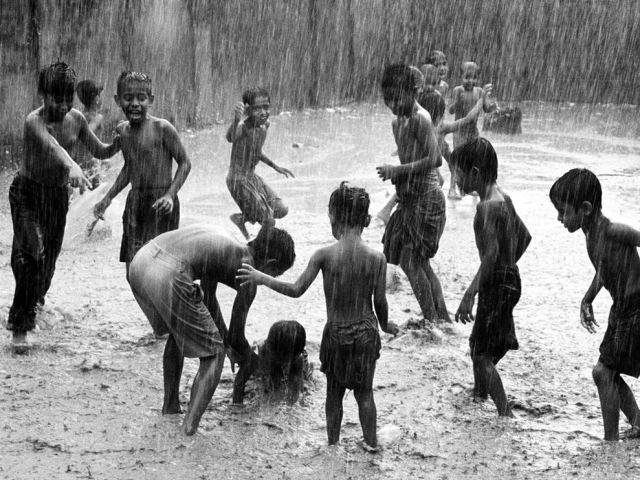 This is the best-ever reason children should be encouraged to play! Read the whole article, "All Work and No Play Make the Baining the Dullest Culture on Earth" here, but the summary is that the Baining people of Papua New Guinea are culturally bankrupt because they prohibit all forms of play:
…(The researchers found that the Baining) lacked the cultural structures that are the stock-in-trade of anthropology, such as myths, festivals, religious traditions, and puberty rites, and that the method of trying to learn about them through interviews produced little response. They did not tell stories, rarely gossiped, and exhibited little curiosity or enthusiasm. In Fajans's words, "Their conversation is obsessively mundane, concerned primarily with food-getting and food-processing." … By negative example, (their culture) tells us something about the value of play to human existence.

They refer to children's play as "splashing in the mud," an activity of pigs, not appropriate for humans. They do not allow infants to crawl and explore on their own. When one tries to do so an adult picks it up and restrains it.  Beyond infancy, children are encouraged or coerced to spend their days working and are often punished—sometimes by such harsh means as shoving the child's hand into the fire—for playing.
I've written about play as the foundation of human creativity and empathy. It is the underpinning of all the cognitive tasks humans need to be successful, both primary intellectual tasks like language and mathematical reasoning,  and secondary skills like impulse-control and perspective-taking. Play cultivates the imagination by putting children in the mind (and shoes) of another being.
The cognitive benefits of play are dispositive and hardly need to be belabored here, yet school boards and politicians are doing everything in their power to limit play in young children's lives. The irony is that just as American schools are stripping play from the curriculum, school systems in South and East Asia are looking to the model of American education with its emphasis on the virtues of imagination, critical thinking, independent problem-solving and creativity. (Martha Nussbaum addresses this here.)
Whenever I hear conservative critics call for a return to the "good old days" of American schooling, I have to laugh because the traditional American school day was brimming with play, and of course children spent their non-school hours almost entirely engaged in free play out of range of adults. Today's Kindergarten curriculum (with its stupid yet perplexing work sheets and needlessly early reading expectations) resembles the 1st and 2nd grades of 40 years ago. Except that isn't even a fair comparison because first and second graders in previous generations had more recess and free play.
What's hard for me to understand as a teacher is why parents have bought into this toxic regime wholesale. Don't they want their kids to play? I think part of the disconnect is that young kids in this generation have so little experience with the richly narrative, open-ended fantasy play that boosts cognition that they don't know how to engage in it. Their play looks (and often is) rather dull compared to the pretend or fantasy play that was so common a generation ago. You often hear kids just mimicking the lines from a TV show or wanting to know if their lego 'kit' is going to match what they see on the box.
So we have a vicious cycle where a lot of parents understand, instinctually, that their kids should play in a more naturalistic and enriching way, but our culture places no value on such richly imaginative open-ended play:
kids' schedules are too programmed;
children are over- tired;
they don't play in mixed age groups very much;
they don't have unstructured outdoor time;
and – maybe worst of all – today's toys and games tend to be linked to TV and movie themes with only one "right" way to use them. As a result, little children often just parrot other people's narratives rather than develop their own sequence of ideas and fantasies.
The upshot of all of this is that kids don't really have a clue how to develop play skills, as crazy as that sounds for those who think play is not a learned process. I often saw this in my preschool classrooms. Four and five year-olds would mill around, looking for direction, and I would have to do a ton of what we call "scaffolding" to get children engaged in playing grocery story or pretending to be dragons. They could do it, eventually, but they needed support and time to play creatively.
In the good old days (which were in other ways not so great), children developed their cognitive-boosting play skills over time, and from older children. It's frustrating as a parent to watch your kid at loose ends when you say, "Go play." I think this is why parents are so drawn to the scripted toys and games that have a definite purpose and a set of pre-determined materials for specific outcomes. We probably suspect those kind of props offer a less cognitively rigorous way of engaging with the world than the limitless possibilities of a pile of wooden blocks. But it's hard work to cultivate play – literally cultivate it, just like a garden –  in a society that's incredibly stingy with the soil, sun, and water that support creative play.
When people ask what dramatic pretend play does for brain development, my answer is Let Me Count the Ways. But the main thing is that open-ended pretend play engages multiple pathways in the brain. It's that simple. We are harming our children physically, intellectually, and emotionally. Ultimately, we will harm our economy, too.